I'd started a post back in December, while in quarantine after our move, about the hard hit my curls had taken to the hard water here in Germany. A bit later, I decided to put it on the back burner because, well, who gives a shit about my hair? Lately, though, I've been getting so many questions about products and techniques, that I thought I'd pick the post back up, albeit, change it up a little.
My initial post had focused heavily on education, diving deep into porosity, texture, hair types, protein/moisture balance, different cuts… but there's so much of that out there already, that I didn't find it necessary to add more to resources far more knowledgeable than me. Rather, I could point people in the right direction… make it easier to find the good versus the fluff. So, here it goes.
---
As anyone who knows me, knows that my hair is an important part of who I am, and always has been. When I was younger, in the late 90's, early 2000's, I mostly flat-ironed the hell out of my hair. It had been straight until my middle school years, and puberty, when waves started to form.
A little background: almost my entire family, both paternal and maternal, has some form of curly or wavy hair. I always enjoy seeing photo's of my dad's afro in high school or my aunt's juicy 3b-3c ringlets. My mom's hair verges on 2b-2c wave. I seem to fall somewhere in the middle of them all. While I find the rare 4a at the nape of my neck, my curls mostly range from 2c to 3c.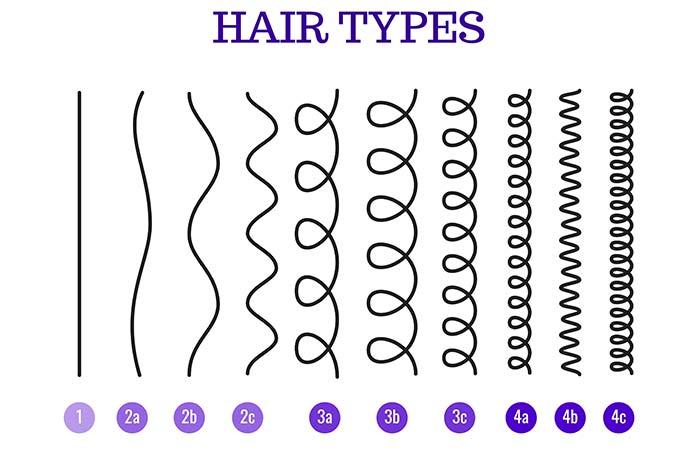 Now, when I was pregnant with Tristan, the hormones seemed to have an effect on my waves: they got curlier. So, I stopped straightening it so often. Years pass and during those years, I don't really do much more than use Ouidad products on curly days and flat iron it on others. A little over a year ago now, I decided to start following the Curly Girl Method.
I'd known about this method for a long time. I'd even bought a book about it, but it all just seemed too damn complicated for someone that was trying to raise a kid, go to nursing school, start a nursing career, and save money to pay off debt and buy a house. But with the stress of everything, I realized I needed to implement more self care into my daily/weekly routine. And so, I started my curl journey.
I started by following a bunch of "curl experts" on Instagram. These are my favorites:
These beautiful women take a lot of time and effort to experiment with new/old products, techniques, tools, and methods and document it all to spread knowledge and support for those of us with curls. Using what I've learned about curl type, texture, porosity, and protein and moisture balance, I've developed a curl routine that suits my hair needs.
This can be tricky, though. Depending on season, hormones, climate, naturally or artificially occurring water minerals, your hair can change quickly.
---
If you search "curl progression" on Instagram, you'll see hundreds, if not thousands, of curl journeys. My favorite curlies often post their journey's as well. I haven't documented mine as well as they have, but here are a few photo's that show my journey:
As my progression occurred, more and more people told me about their curly hair and where they should start. First, I always direct them to the lovely ladies listed above. I then suggest a good co-wash, a shampoo, a conditioner, and a deep conditioner. This sets your wash day products.
Next you'll need stylers. This is where it gets a little tricky. All products don't work for all curls. This part can take quite a bit of trial and error. To begin, I usually suggest a curl cream or leave-in, mousse and/or gel. This is where people usually say, "but mousse and gel leave my hair so crunchy." You aren't meant to leave it crunchy! You scrunch that mess out! Then you are left with, hopefully, pillow soft curls.
You can also let your curls dry naturally, or, if you're like me and hate having a wet head, diffuse to dry.
Below, I will list my favorite products under each category.
COWASH
– As I Am Coconut Cowash
– Inahsi Tropical Escape Cowash
SHAMPOO
– Live Clean Apple Cider Detox
– Inahsi Soothing Mint Sulfate-Free Gentle Cleansing Shampoo
-AG Balance
CONDITIONER
– Live Clean Apple Cider Refresh
-Inahsi Soothing Mint Moisturizing Conditioner
DEEP CONDITIONER
– Mielle Babassu Oil Mint Deep Conditioner
– Inahsi Mango Hemp Restorative Deep Conditioner
– Curlsmith Double Cream Deep Quencher
– Curlsmith Hydro Creme Soothing Mask
– Bounce Curl Deep Condition
CURL CREAMS
– Bounce Curl Avocado & Rose Oil Clump & Define Cream
– Ouidad Advanced Climate Control Featherlight Styling Cream
MOUSSE
– Pantene Curl Defining Mousse
GEL
– Uncle Funky's Daughter Curly Magic Curl Stimulator
– Kinky-Curly Original Curly Custard
– Bounce Curl Light Creme Gel
– Boucleme Curl Defining Gel
---
Now what to do with these products? I started off by alternating each week between cowashing and a shampoo. This helps to resettle the moisture balance in your curls. I deep condition once a week using a heat cap. The one I now use was handmade by Gabriella (see her IG for links to her Etsy account), but there are inexpensive ones on Amazon.
When applying a conditioner, be sure to squish it in. This is called STC or Squish To Condish. This technique helps to get that conditioner in all those little places. It also helps to reform your curls. I use this method to also rinse the conditioner out.
To style, I use the LMG method, which stands for Leave-in, Mousse, Gel. This method I learned from Gabriella. Typically, I substitute the leave-in for a curl cream. When applying products to style, leave your hair pretty wet. Sometimes I will use a Denman brush or large toothed comb instead of my fingers to rake in the product. It all depends on the style you want.
I then use an old t-shirt to either plop, or micro plop, to get out all the extra water and product – then diffuse upside down. Often there will be a cast (you know that crazy crunch), but you'll want to gently break the cast by scrunching.
Again, there are an insane amount of videos on Instagram, Youtube, or any platform you prefer (I like IG).
---
Hopefully that will help to get you started. But, I think it's important to heavily impress upon you: all curls are not created equal. What works for one person, may not work for the next. It take trial/error and lots of patience.